Serve Your Community with Changemaker Central!
Part of what it means to be a Sun Devil is to give back! Volunteering not only helps others, but it is a great way to meet like-minded Sun Devils and build your resume. Whether once a month or weekly, there is an opportunity out there for you to make a difference in the world. Tutoring, building homes, sorting food, assisting in a hospital are just a few of the many ways you can get involved in your community.
VolunteerMatch at ASU is a database of local and on-campus volunteer opportunities for ASU students, Faculty and Staff.
Using your ASU Login – you can create a profile in VolunteerMatch and:
Search and sign up for volunteer opportunities on and off campus
Set a service goal and track your progress
Log your service and print a "service transcript"
Questions? Please reach out to changemaker@asu.edu.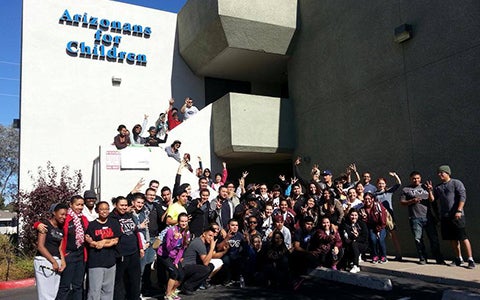 Did you know that last year ASU students contributed an estimated 1.8 million hours of service to the community? As a result, ASU was named a recipient of the President's Higher Education Community Service Honor Roll.